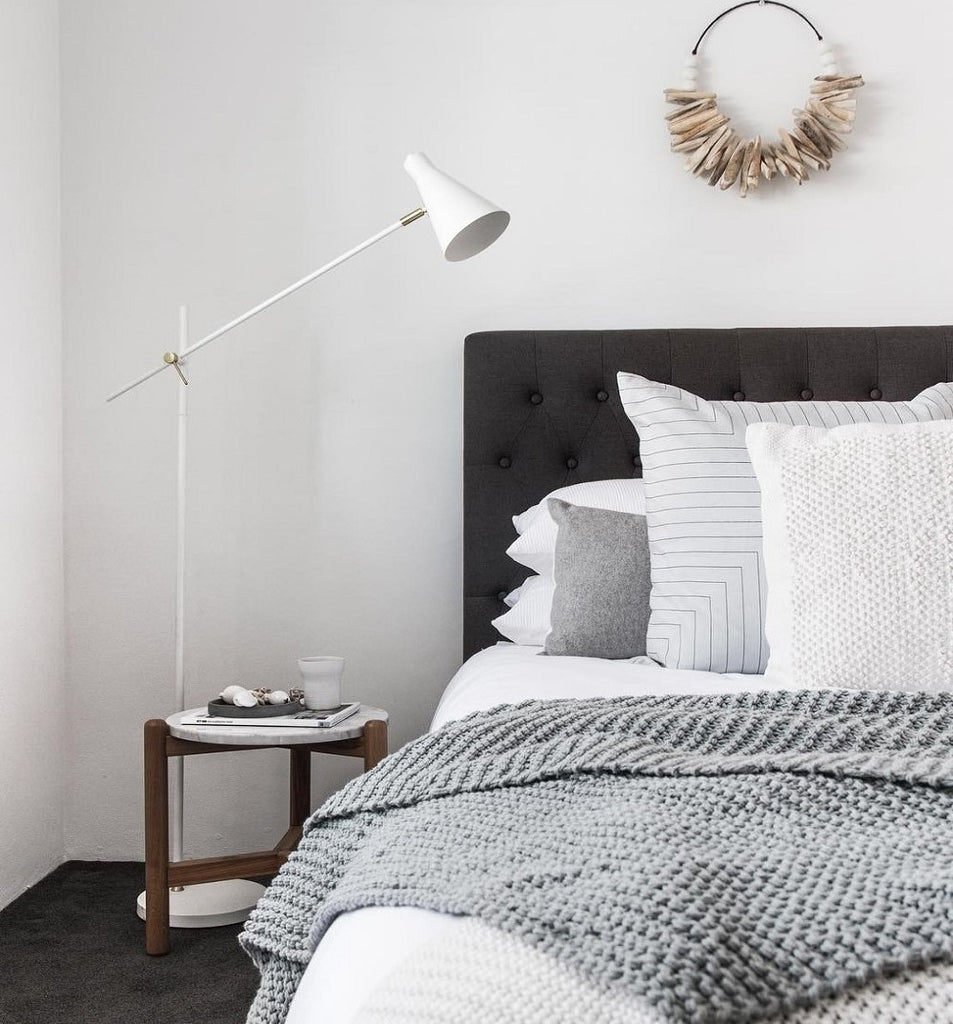 Keep your bedroom on trend with these 3 easy style hacks.

Coastal
Here in Australia we are blessed with being surrounded by idyllic coastlines, so it's no wonder that we love that beachy, relaxed vibe inside our own homes too. Light airy interiors that bring the outside in.
Nature's own colours and textures and bringing that sense of all that is natural, pure and relaxed into the bedroom. The look here is mixed textures, complementary shades, and a oneness with nature. Think soft greys, blues and natural tones. Keep the look and colour scheme light and fresh.
Soft Ash grey quilt covers and white pillowslip combinations are prefect to create this look in your bedroom. 

Coastal living means adding lots of layers, flowing curtains, natural timber flooring, artisan woven rugs. Choose bedlinen that reflects this mood; natural bamboo cotton duvets and pillowslips, and delightful objects repurposed to add a relaxed beachy feel.
Harper & Wilde have some beautiful pieces to add that wabi sabi coastal feel to your bedroom
Modern luxe
When it comes to finding inspiration for a modern luxe bedroom, think luxurious textures and colours. Velvet, silks and embroideries and colours like Indigo, Plum and Burgundy.
Investing in at least one key standout piece for the bedroom, a focal point. This is usually the bed because is it usually the biggest piece of furniture! Carefully select your bedlinen in a strong, deep colour, our bamboo cotton in Indigo will add a richness.
It could be a beautiful upholstered bed frame, or a large floor mirror. Oversized pieces always create more of a modern feel, so don't be afraid of using large scale lamps, or oversized cushions.
Mixing luxurious materials and textures through accessories is also encouraged. Combine velvet fabrics in the accessories with beautiful luxurious fabrics on the bed, velvet throws and cushions adding that luxurious layering you want with this look.
A combination of metallic and brass decorative items here and there add a touch of luxe. And if you're looking to take it to the next level, introduce a unique piece of artwork to the room.
Eclectic boho
An eclectic home suits the heart of a true collector, adding interesting pieces you have collect from your travels or your Granny! This comes in the form of objects, homewares and also in photographs; I love the old photos of my grandfather in his army uniform or my parents on their wedding day.
Make a collage of your collectable and photos or add these bit and bobs as accessories in your bedroom to enhance the homely, lived in look.
To achieve the eclectic boho in the bedroom, I suggest investing in preowned pieces with character, as well as surrounding yourself with natural materials. Preowned pieces give you a sense of history that can never be purchased brand new, and anything natural, like furniture made of wood or cane, help the bedroom feel more homely.
Bedlinen can be mixed and match, duvets and pillowcases in tonal shades or contrast colours adds depth and character. Again, natural bedlinen is recommended, bamboo cotton or Linen are best.
Colours are eclectic, mixing colour and tones not always associated with each other. Think warm Ochre and Rust with shades of blue and grey. Mix and match is the ethos here!
The bedroom must look likes it's been thrown together, but in reality, it's been carefully curated with goodies you have bought, collected and eclectically arranged.